Day 1 – Travel Day
An early start this morning – the 1.30am National Express coach to Terminal 5.  It saves staying in a room overnight, I just have to read my book for a few hours before being able to book in for my British Airways flight to Munich.  I waited to see if I could see a Titan rep but didn't see one so I made my way through the automated check-in system and security check then had a browse through the shops while waiting for the plane.
After a few hours hanging about we were called to board the plane, it's only a short flight, less than two hours but I do enjoy having a snack and a drink on board – I can't resist a treat to start my holiday.  The flight was uneventful but when we landed it took nearly an hour for our bags to appear.  Goodness knows what the delay was – it's only a small airport!  When we came out of the arrival area we saw our driver holding up a Titan Travel sign.  We later discovered his name was Werner – he didn't speak much English but he loaded up the luggage, counted us aboard the coach and took us on our two hour journey to our hotel, the Jenbacherhof in the Tyrolean market town of Jenbach.
We booked in to the hotel and made our way to our rooms.  Mine was very nice and quite spacious, although it didn't have air conditioning and was a bit hot on occasion as we had good weather for a lot of our trip.  My room was also situated above the stream that ran alongside the hotel – I could have done with a mute button as it was quite noisy!
Dinner was at 7.00 pm and we discovered it consisted of soup, followed by a main and a sweet.  After the first night we were given a choice of two main dishes, which I was pleased about, being a picky eater.
Our guide Suzanne appeared that evening and introduced herself and told us the itinerary for the next day.  Days 5 and 2 of the itinerary had to be switched round due to the running times of the trains, but the rest were as advertised.
Day 2 – Pinzgauer Narrow Gauge Railway & Krimml Waterfall
This railway started in 1898 and runs through the Salzach Valley to the Hohe Tauern National Park, home to Austria's highest mountain, the Grossglockner, and Europe's highest waterfalls, the 380m high Krimml Falls.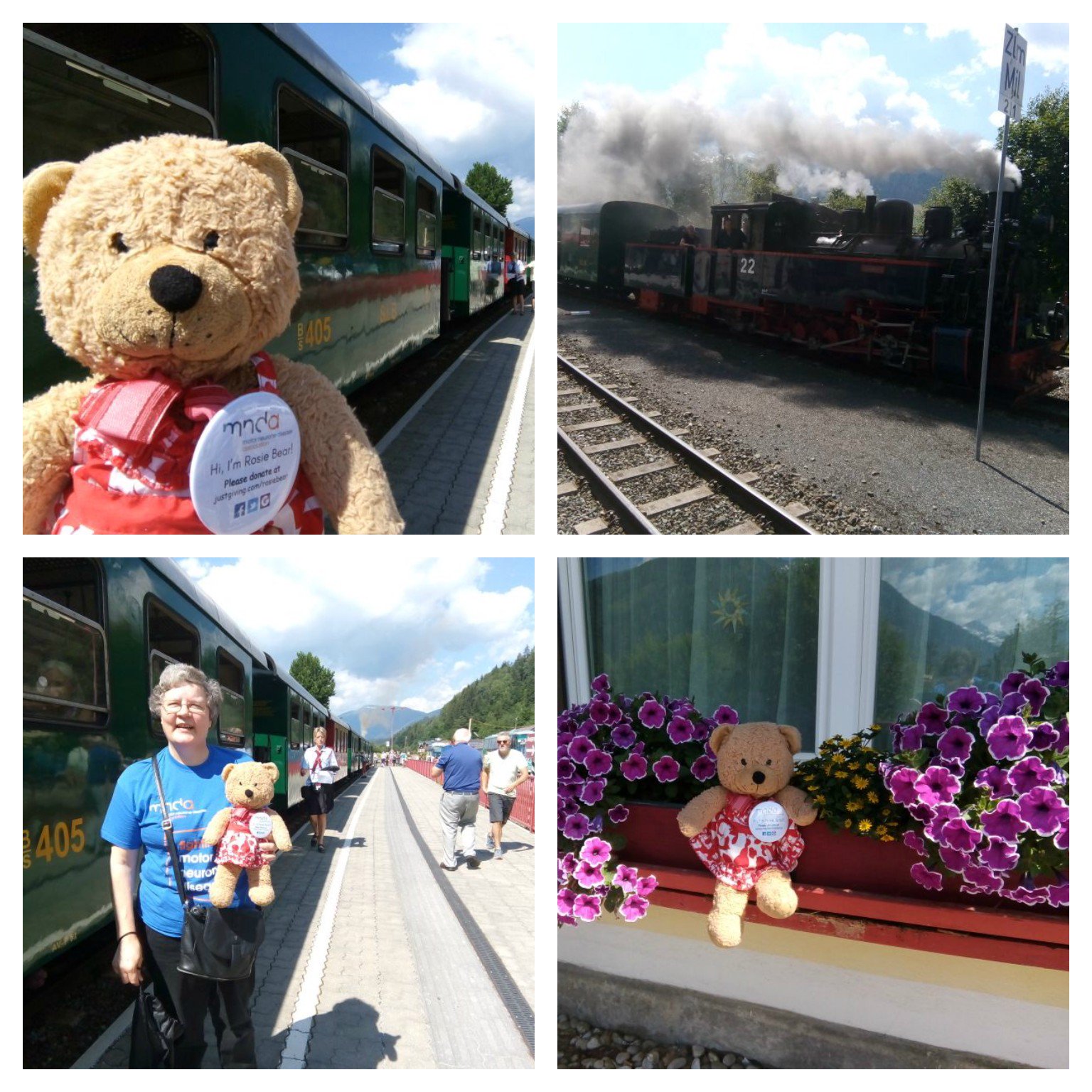 The train went through some lovely countryside, the Tyrol really is a pretty place to visit, then we boarded the coach again and made our way to the Krimml Falls, which are spectacular.  I decided to go to a higher viewing platform to get a good photo but kept going up the zig zag path to the side of the falls and eventually ended up at the cafe at the top!  I rewarded myself with a drink and a snack before going back down again.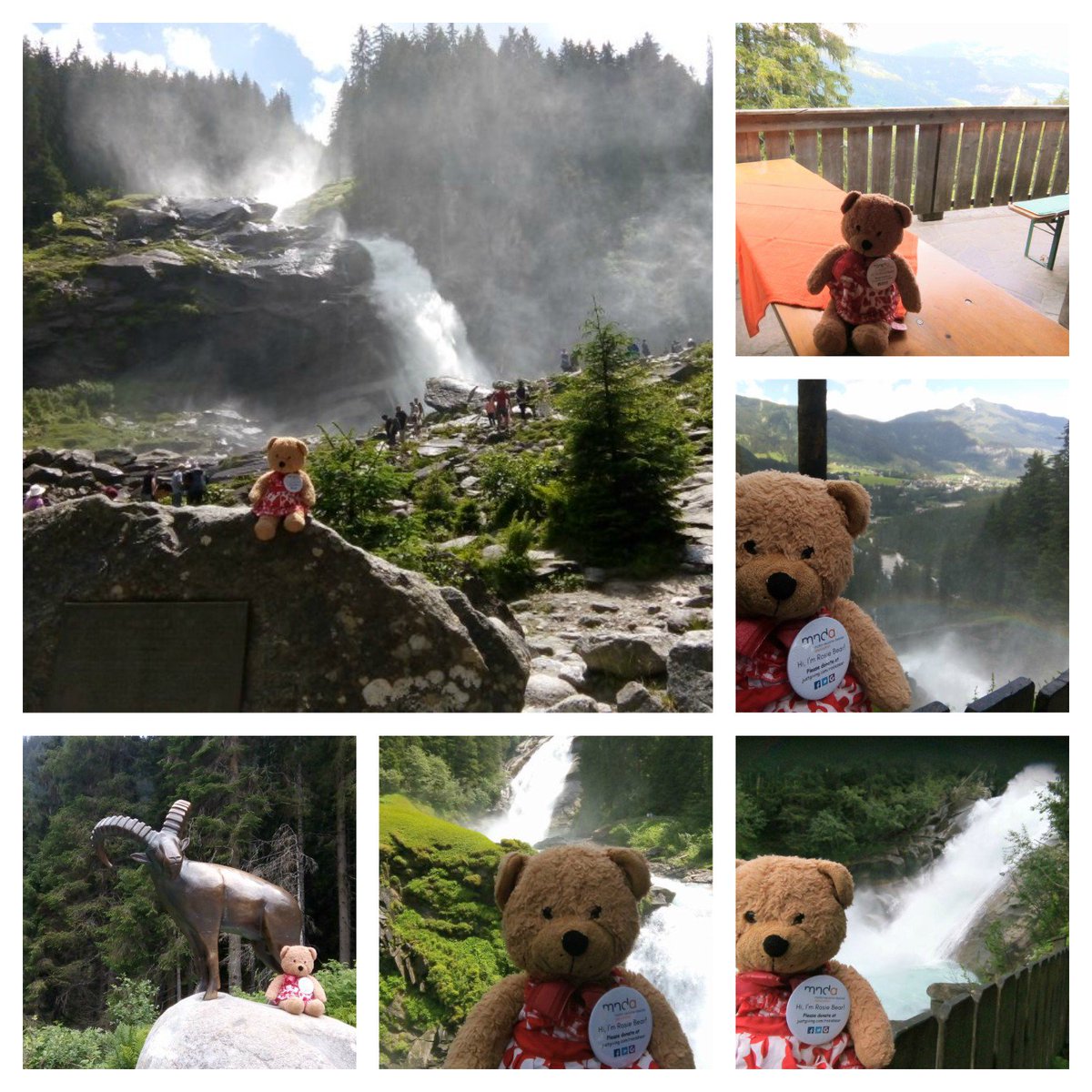 After dinner this evening we were told there was a concert taking place nearby so we went up to have a look.  They all wore the traditional Tyrolean costumes and played folk music and arrangements of well known songs, such as 'My Way'.  Local girls came round with schnapps in barrels which they were selling to the audience.
We also received a taste of typical mountain weather – it started to bucket down, luckily they are used to it and had umbrellas up just in case.
Day 3 -Zillertal Valley Steam Railway
Today we catch the Zillertal Valley Steam Railway, which has a gauge of just  760mm.  Opened in 1902 it is still a well-used transport link for the locals as well as a popular tourist attraction.
We caught the coach to Fugen then boarded the train for the 22km journey to Mayerhofen, which was very enjoyable as we were given schnapps and treated to some accordion music.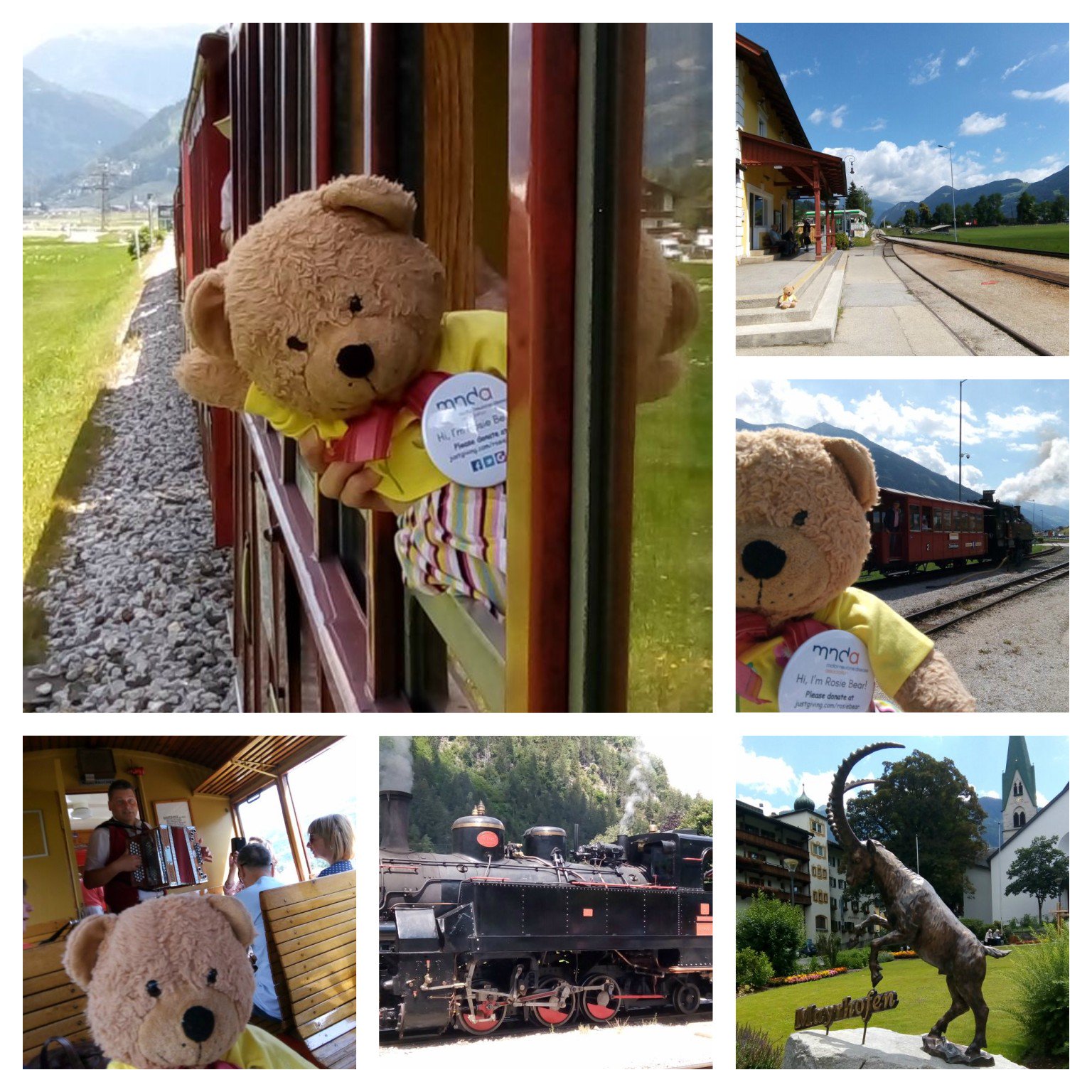 Mayerhofen is a lovely town and we had some free time to have a wander and find some lunch before boarding the coach again for the return trip.  On the way back we called in to Rattenburg, Austria's smallest town with a population of approx 450 people, where we were also given a demonstation of glass blowingat Kisslinger Krystall and I managed to find a small souvenir candle holder, which I got engraved as a reminder of the trip.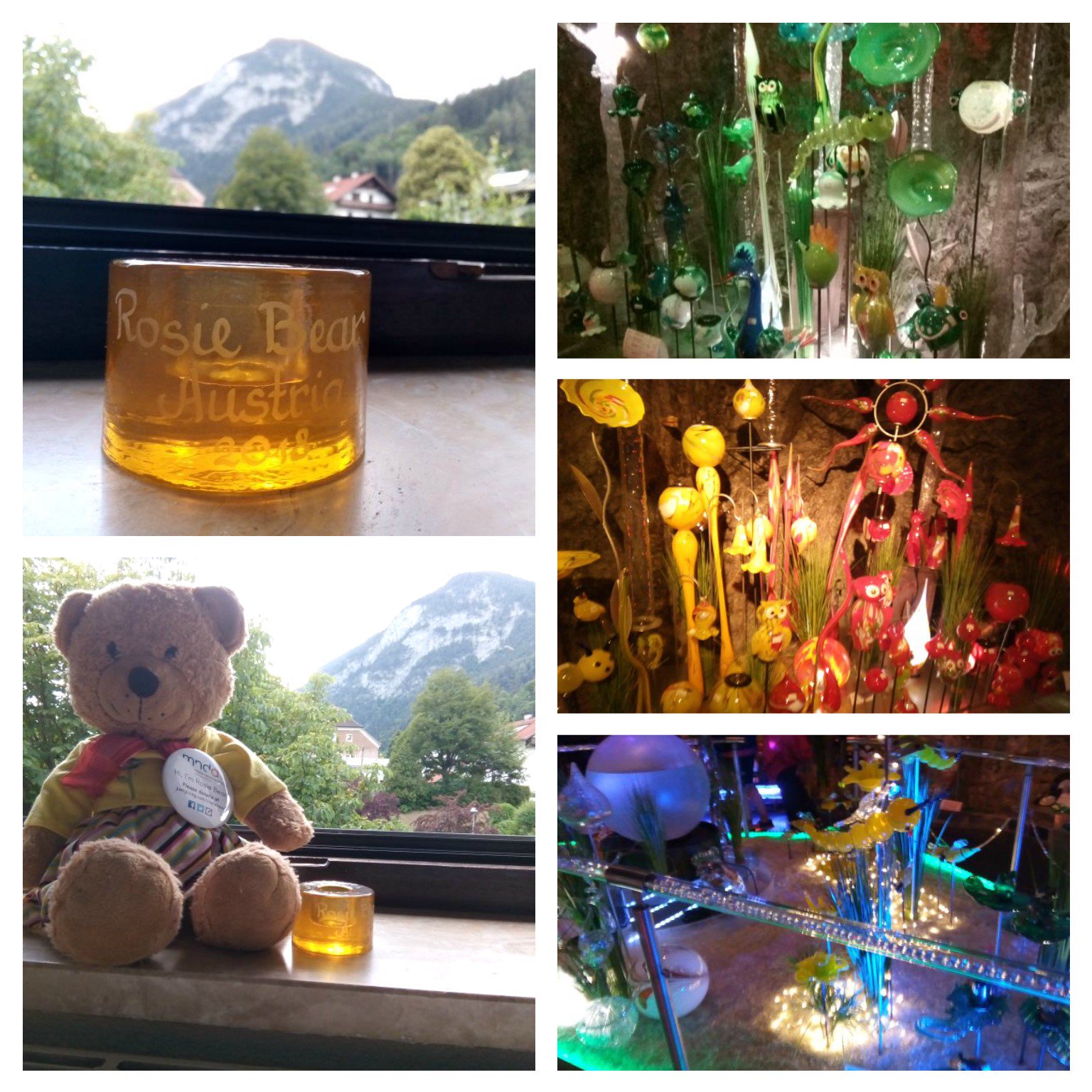 Day 4 – Salzburg
Today required an early morning alarm to make sure we were able to have breakfast before boarding the coach in time to get to Salzburg. At least we were able to have a snooze on the coach on the way.  When we arrived in Salzburg we were given a two hour walking tour by a knowledgeable local guide, which included Mozart's birthplace (the yellow building below) then given time to wander on our own.  I decided to walk up to the castle that overlooks the city – and what a view it is too!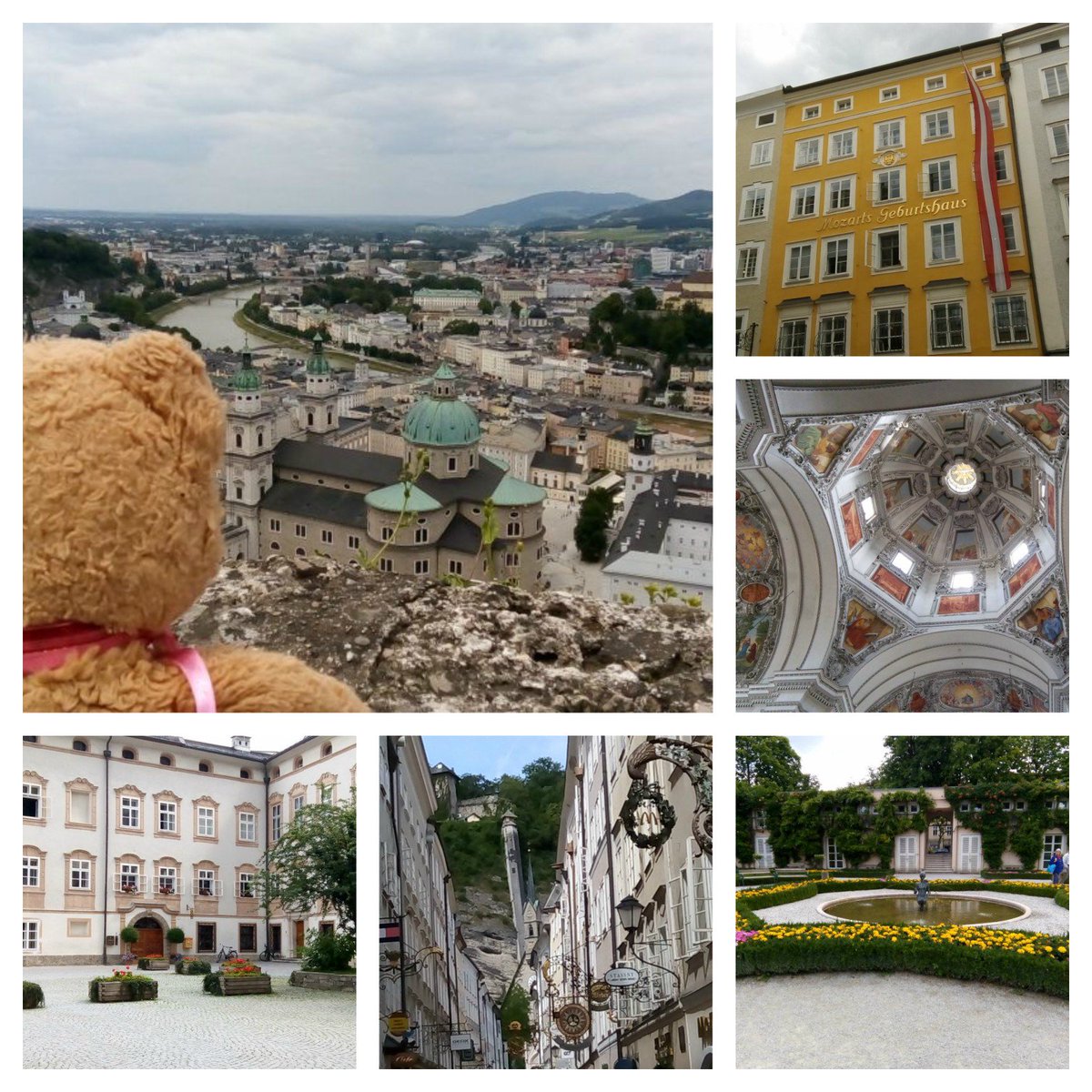 After my hike to the top and back, I was very pleased to stop for a cup of tea and some of the Sachertorte, a cake created by Austrian Franz Sacher in 1832… mmm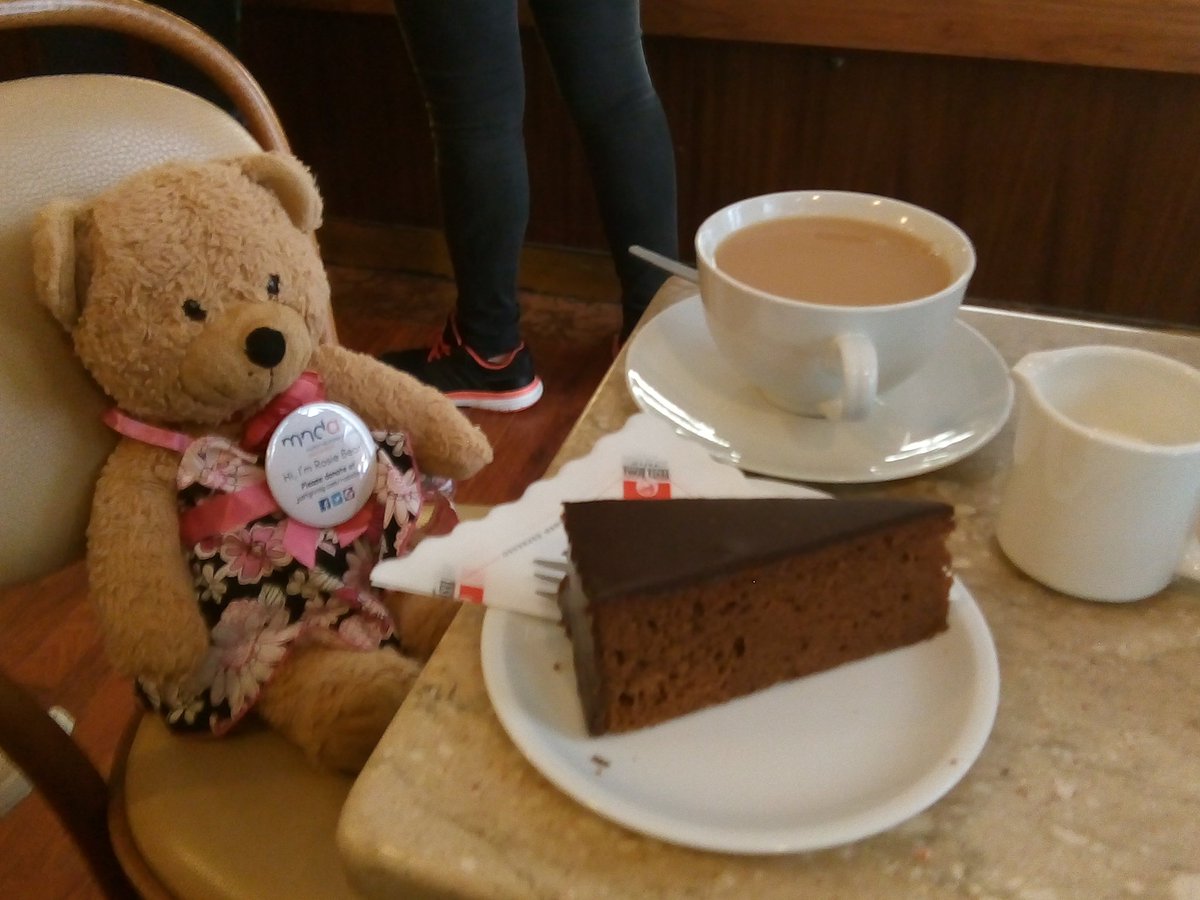 Day 5 – An Additional Tour to Tratzberg Castle a Trip on the Achenseebahn to Lake Achen
Today we had an extra trip to Tratzberg Castle arranged by Suzanne at the request of one of our tour member and we're really pleased it was included – it was a really amazing building with exquisite workmanship and lots of treasures inside and a very good automated tour.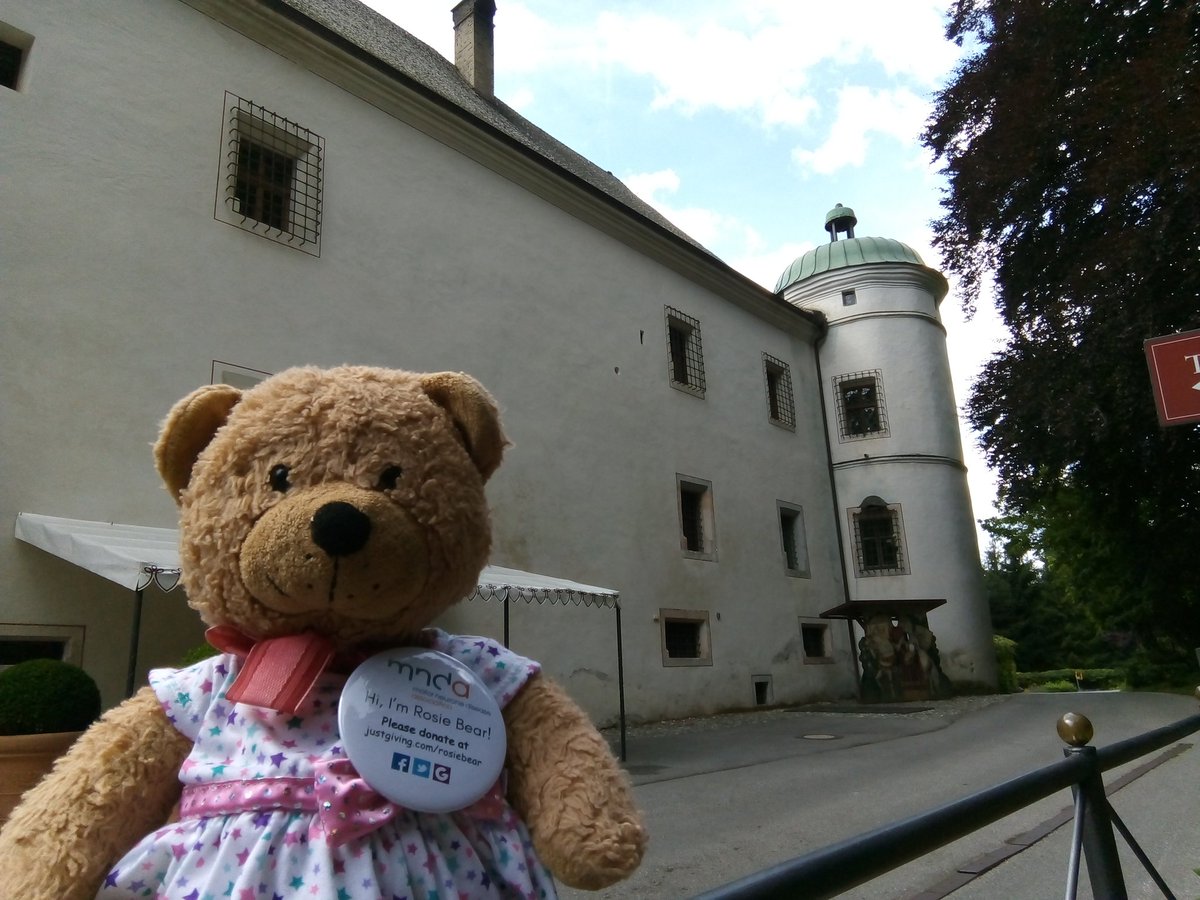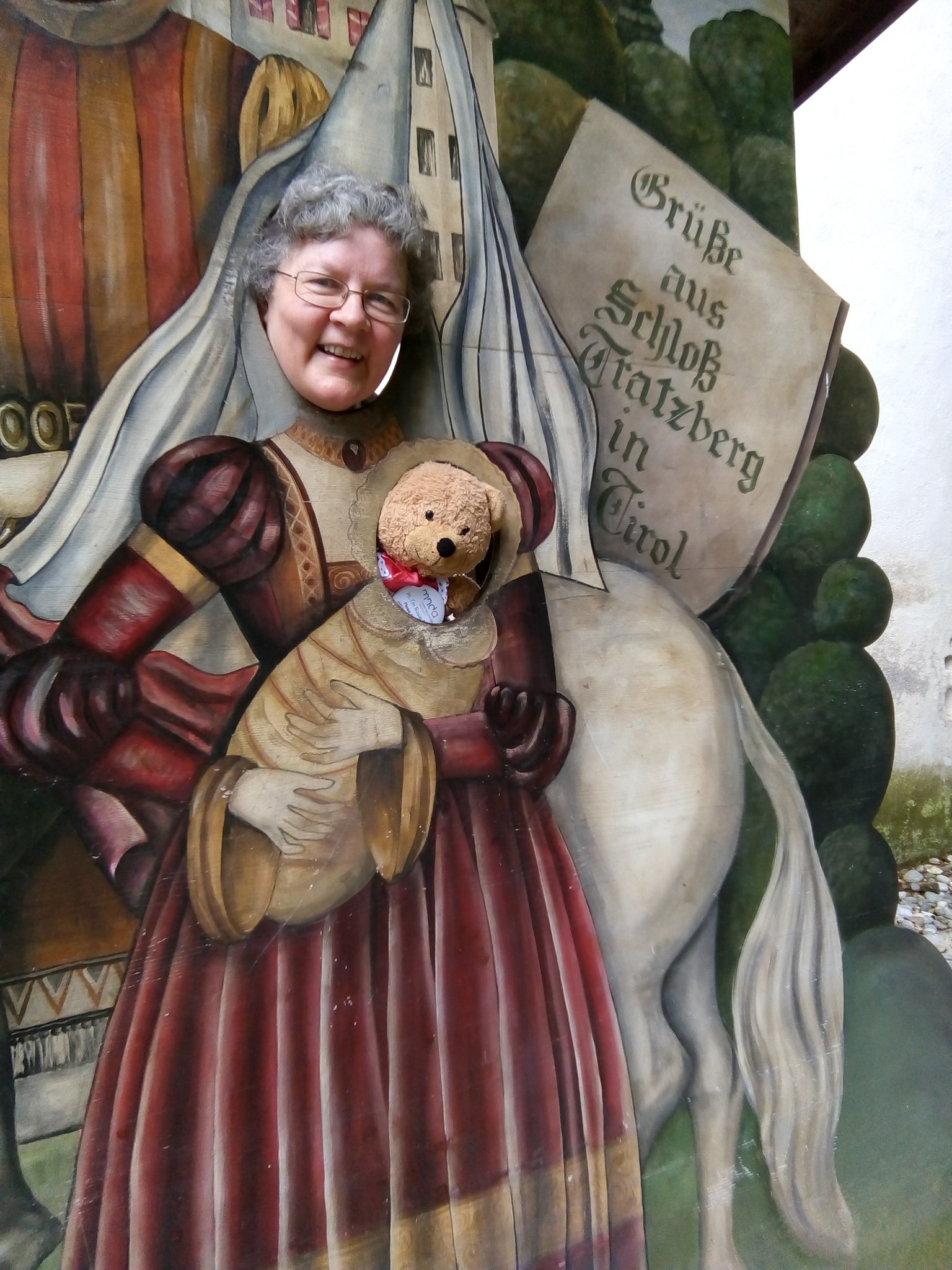 After a delicious lunch we boarded the coach again and were dropped off a Jenback station, where there are actually three gauges of track for the different types of train passing through the station.  This time we were going up the mountain on the Achenseebahn, Europe's oldest steam operated cog railway, which dates back to 1889, which slowly made its way up to Lake Achen, where some decided to go on a boat on the lake and some, like me, went up the mountain in the cable cars to get a superb view over the valley.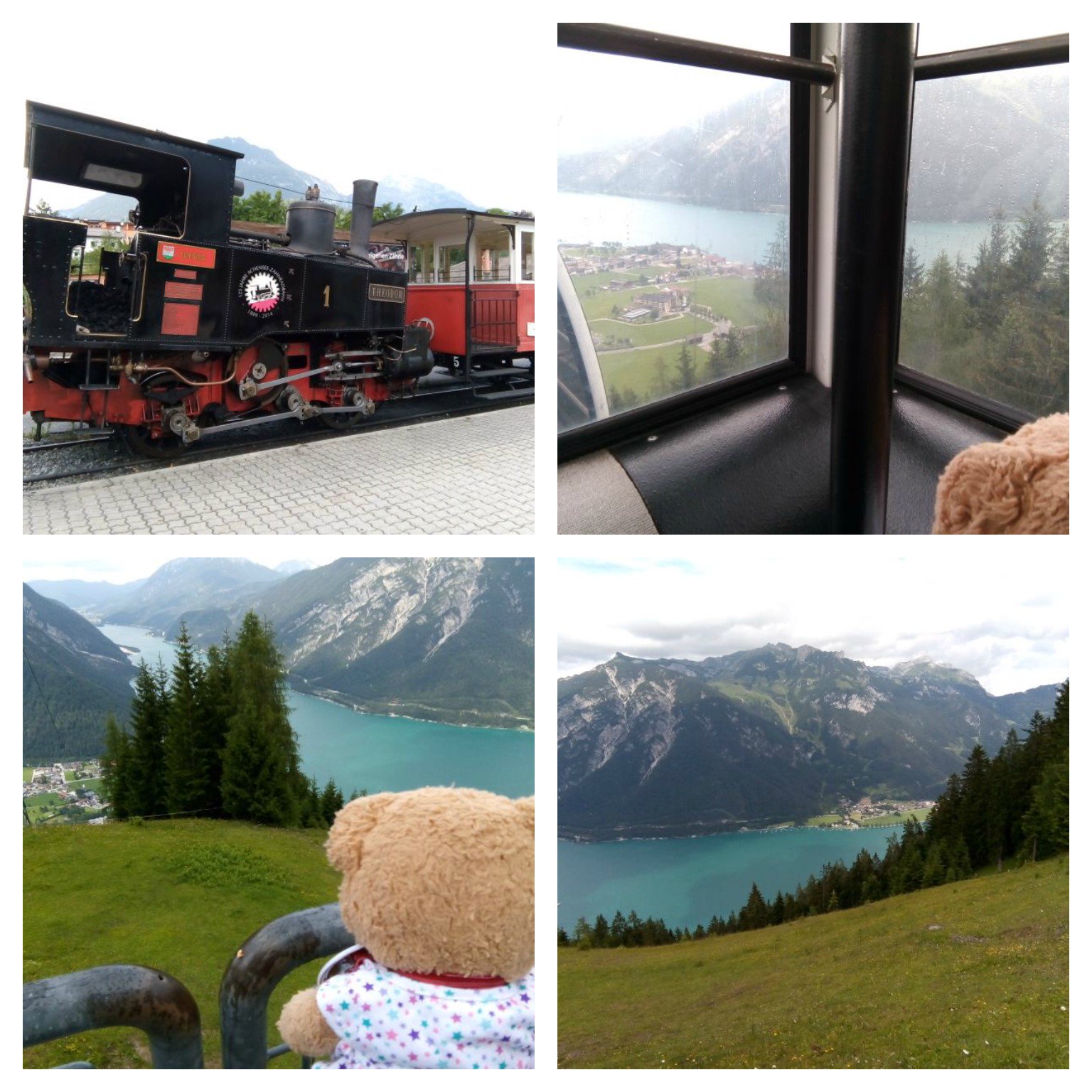 Day 6 – Travel Home
Today we made an early start for the two hour journey to Munich Airport to catch our lunchtime British Airways plane home, followed by a National Express coach back to Poole, arriving just after 6.30 in the evening.
It had been a packed holiday with lots of places to see and trains to travel on.  It was definitely well worth the money but it was nice to be home.