I was very lucky to join family on a birthday weekend trip to London, helped by a very good Travelzoo deal to the Royal Garden Hotel, Kensington (room, breakfast and welcome cocktail for cheaper than one of the popular chains provisionally booked).
Luckily we caught a South Western Train up to Waterloo, which ran like clockwork (much better than the coaches that were running one and a half hours late).  We checked-in to our room and enjoyed the views while enjoying a cuppa before going out for our evening meal.  We were surprised when there was a knock at the door to find room service had delivered a 'Happy Birthday' chocolate treat… mmm… delicious!
We decided to have breakfast in our room as a treat as we needed to be up and out early for our our Transport for London's Hidden London tour of 55 Broadway, which straddles St James' Park Tube Station.  It was originally London's tallest skyscraper/office block when it was opened in 1929 at 55.3m in current terminology.  We had booked in for a one and a half hour tour of this lovely Art Deco style building.
It was interesting to hear the origins  of the building, which was built in the style of an American skyscraper with a steel frame and an outer skin of Portland Stone.  It was very opulently built with marble floors and oak panelled walls on the higher levels.  It was very clear to see the class structure of the time with the secretarial pools on the lower levels and the Management on the higher levels, with separate eating and toilet facilities.  It was also built with a stepped back design as it went up to ensure light reached street level and the cross design let natural light in to all offices.  There was quite a hoo-ha about the sculptures in those days, which seem quite tame nowadays.
We had a very enjoyable tour with a knowledgeable lady who used to work in the building, the highest views being gained after going up narrow metal staircases to the top viewing level, with magnificent, if hazy, views of London.
I would definitely consider going on one of the 5 other Hidden London tours, plus I haven't quite managed to visit their museum yet – apparently there is an Open Day at their Acton Depot early in July, which sounds interesting.
It was warming up so we decided to visit one of the smaller cinemas in the centre – the Empire, Haymarket, which was also reasonably priced.  What a beautiful building!   It gave us chance to put our feet up and enjoy the air conditioning for a couple of hours.
After wending our way back via Kensington Gardens, always a lovely place to visit, we had a quick change and made our way back to Westminster for a meal at the Royal Horseguards Hotel restaurant One Twenty One Two (another brilliant Travelzoo deal) where we had a delicious meal but unfortunately the service was very slow.
On our final day, we took our time getting up, having a lighter breakfast than usual as we were having a Sunday lunch later.  We decided to have a wander through Kensington Gardens and visit the Serpentine Gallery, who we found out were having an exhibition of the work of Ian Cheng called Emissaries.  Well, I did love the colour of the images but I didn't really understand what was going on.  I'm not a fan of contemporary art, but I did like the artwork outside -that was quite fun!  The lady in front of me saw only half her Jack Russell Terrier reflected but we couldn't work out where I had to be to do that, so I made do with three of me instead!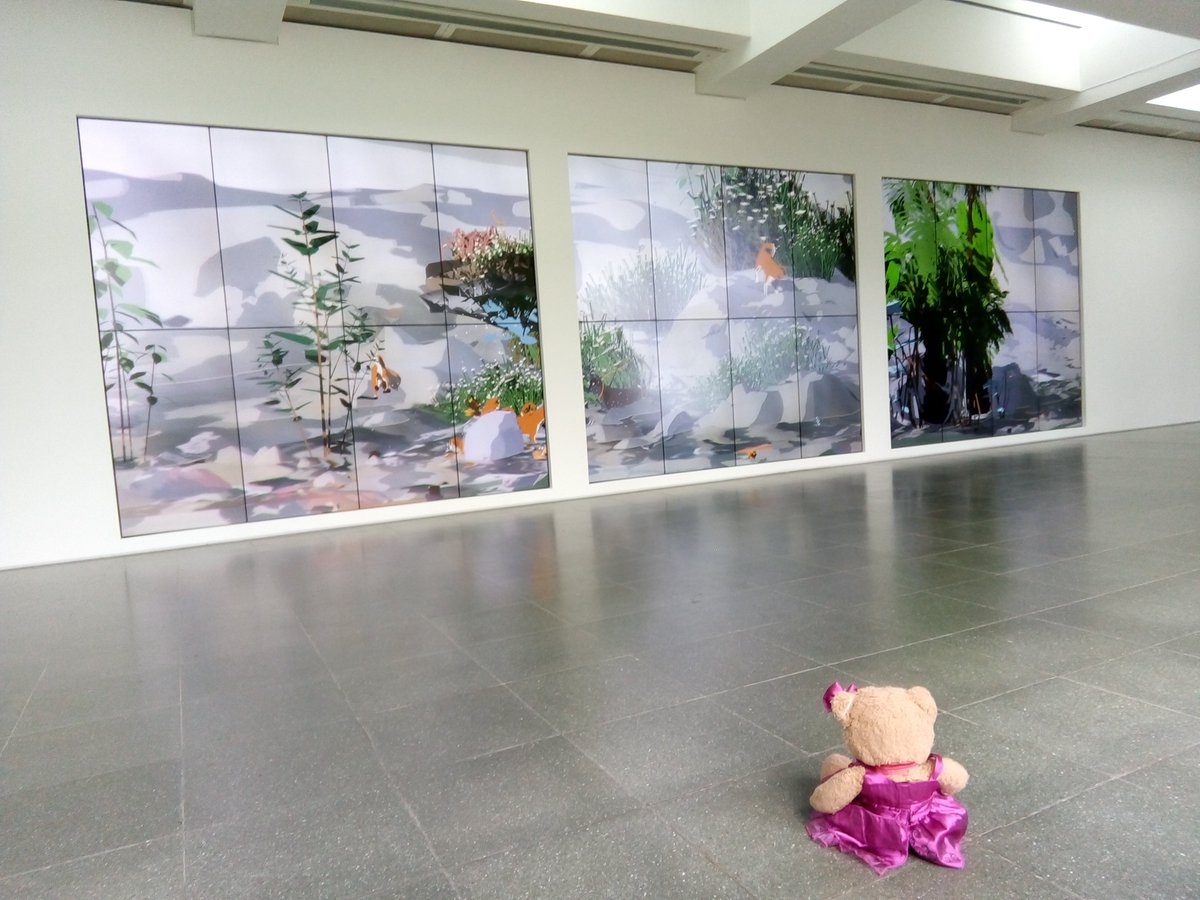 I do love a walk in the Royal Parks and Kensington Gardens is no exception.  London is always busy and noisy and I like the quieter interlude of a green space, vital for man and beast!
We had time for a wander up Kensington High Street but found the department stores open later on a Sunday than they do down our way, so contented ourselves with finding a few small souvenirs and then collected our bags.
We had a super stay at the Royal Garden Hotel, which we noticed on our travels is quite close to the Royal Albert Hall, which we sometimes visit, so we would definitely stay there again – the rooms were well-appointed, the tea tray well stocked (always a must for me – I do like s cuppa!) the food and drink delicious and the staff very helpful.  Also well done to Travelzoo for highlighting this deal.
We finished our London adventure having a birthday Sunday lunch Gaucho Piccadilly, an Argentinian Restaurant,  which was recommended to us by a friend.   We are glad we took their advice as the service well brilliant and the meal delicious, one of the best Sunday lunches we have had in a long time.
We just need to go back home and get back on our diets before the next adventure!